Perth Skilled Labour Hire
Labour-hire for the construction, mining, oil & gas sectors
Perth's Recruitment and Employment Specialists
Find Your Next Career Opportunity in Perth with Unite Resourcing.
If you're a talented individual seeking work in the construction, mining or civil sectors in Perth, we streamline your recruitment experience.
We partner with job seekers and employers in Western Australia and beyond to uncover the right talent for a range of highly sought after positions, removing the risk and rejection often experienced when competing for popular job roles, projects and workplaces.
After an initial phone interview, where we identify your unique skills and abilities, we will quickly advise you on next steps to placement. We understand that transparency is important, and we're always upfront about who a contract is with and quick to share the rates on offer.
We remove the need to apply for job after job, creating a personalised environment to find rewarding blue and white collar jobs in Perth by streamlining the search, assessment, placement and induction process. We don't have the name as Perth's most personal hiring experience for nothing.
Servicing All of Western Australia
Our strategically located offices allow job seekers to interview across Australia.
We have job roles for Perth metro and regional work, for a range of skill levels. Our service area includes (but is not limited to):
Geraldton
Karratha
Mandurah
Rockingham
Kalgoorlie
Port Headland
Perth Labour Hire & Recruitment Services for Construction, Mining, Oil & Gas
Unite Resourcing connects employers to a wide range of Perth blue-collar and white-collar job roles. As a local West Australian labour hire agency, with offices on the East Coast, we are well placed to support the booming mining and construction industries that WA boasts. From electrician jobs to civil engineer jobs we have pre-qualified talent ready to mobilise your project.
Skilled Trades and Services Hire
Labour and Construction Hire
Engineering Hire
Don't waste time job searching for staff on job boards!
Get the personalised experience that job search engines and job boards can't offer. Being a local Perth based company, we like to meet our clients face to face (if possible) at our South Perth location. Instead of sorting through thousands of job ads or job applications let us provide you with the candidates that fit your needs.
Why Perth Employers Choose Unite Resourcing
High Success Rates
Unite Resourcing is one of Perth's fastest-growing blue-collar labour-hire agencies.
Having employed more than 800 job seekers in Perth in just two years, Unite Resourcing has developed a reputation for providing great results to its clients. With a fast-growing network of skilled staff, we have the capabilities to rapidly expand your workforce.
Quality over Quantity
We understand the Construction, Mining, Oil & Gas job requirements
Metropolitan and regional Perth have vastly different employment opportunities. At Unite Resourcing, we take the time to understand the unique talent requirements of our clients. We promise to find the right person for the job.
Face to Face experience
Our Perth recruitment team meet face-to-face with job seekers
We undertake resume checks, skills assessments and inductions ensuring we know what our clients are looking for and what our candidates wish to gain. Experience the recruitment process done right!
Flexible Employment Contracts
A range of job locations and schedules to fit your needs
Our prequalified database of job seekers and local employment networks allow us to rapidly assemble work crews and identify the right skilled employee for the job at hand. Whether you are looking for a part-time, full-time, casual, temporary work contract, Unite Resourcing has the solution.
FIFO Opportunities
Unite Resourcing specialise in Construction, Mining & FIFO Recruitment.
Presenting Mining, Oil and Gas opportunities to West Australians.
It is no secret that Western Australia's Pilbara and Kimberly Regions are home to some of the best mining career opportunities in the world, and with it comes some of the best FIFO and DIDO jobs in the country. Whether you are a male or female in mining, our team of employment specialists have a number of entry level to veteran level FIFO jobs with varying rosters. Get in touch with a consultant or browse our FIFO jobs page to see what we can offer you.
Close to Home
Unite Resourcing's office is conveniently located on Perth's South Foreshore.
Presenting Mining, Oil and Gas opportunities to West Australians.
Outsource your entire recruitment process & flexibly expand your business workforce to meet demand! Visit the professionals. Our Perth office is at Unit 8, 4 Harper Terrace
South Perth, WA 6151.
Visit our Perth Recruitment Office.
Office Hours
Monday: 6 am – 6 pm
Tuesday: 6 am – 6 pm
Wednesday: 6 am – 6 pm
Thursday: 6 am – 6 pm
Friday: 6 am – 6 pm
Saturday: Closed
Sunday: Closed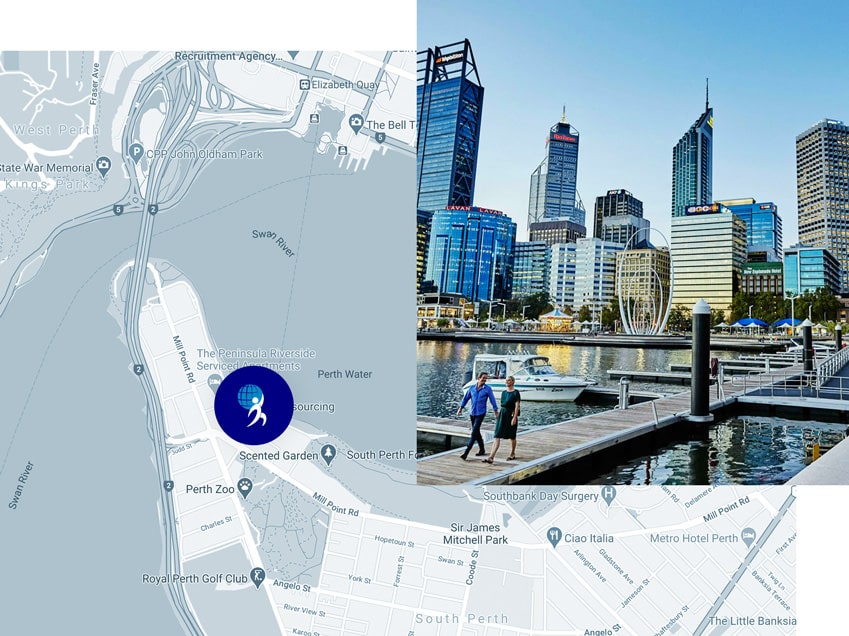 Let Us Connect with You and Your Business
No matter the nature of your enquiry, the expert team at Unite Resourcing will do our best to address it. Questions from jobseekers, employers; or general queries relating to our services, industry and recruitment are welcomed.