Managed

Workforce

Solutions.
Perth Labour Hire Agency Offering Staffing Solutions to the Resource Sector
Find work in the Mining, Construction and Engineering Sectors.
A Local Employment Agency Motivated to Assist Perth's Job Seekers.
Our team of specialist recruiters have held senior roles within the mining, construction and engineering sectors. We pride ourselves on our comprehensive industry knowledge and 'above and beyond' care factor that leads to the best outcomes for our recruits and clients.
Find Staff Quickly with our Rapid Onboarding Capabilities.
Labour Hire Contracts for Perth Employers looking for Job Seekers with all Levels of Experience.
We offer short-term, long-term, permanent, local and FIFO roles. our team is known for its relationship-based and caring recruitment approach. Whether you are a newcomer to the industry or a skilled veteran, we see you as an investment with potential. This is because at Unite Resourcing, we hire a person for their qualities, not just their skill set. This is how we have built trust and value as a premier Perth labour hire recruiter.
A Perth Recruitment Agency with Skilled Labour Hire Solutions
At Unite Resourcing, we are an expert employment agency proudly based in Perth, Western Australia. Specialising in the mining, civil and construction industries, we are also trusted partners to leading Australian mining operators and are at the forefront of mining recruitment.
We merge exceptional talent with your business, delivering swift and valuable outcomes so your projects can thrive. Our extensive database of blue and white-collar candidates reflects our strong connections to a skilled workforce, giving us the confidence that we can successfully match the best talent with the right roles.
Worker Safety is at the Core of our Agency, with Licensed OSH Specialists at the Heart of our Team
With safety at the forefront of Unite Resourcing's labour pool and operations, our qualified team of HSE professionals work closely with the construction, mining and energy industries to ensure our induction and work practices are compliant with Australian and site specific standards.
Sign-up for Job Alerts
300
Jobs available with #UNITE
Career insights from Perth's leading recruitment and labour-hire agency
We believe it is important to stay up to date with the current job market. Whether you are searching for a job or just want to know the demand for your skillset, take a look at our page on career insights & advice. We talk about current market trends, give valuable advice for those in search of a career and share our take on Australia's employment industry.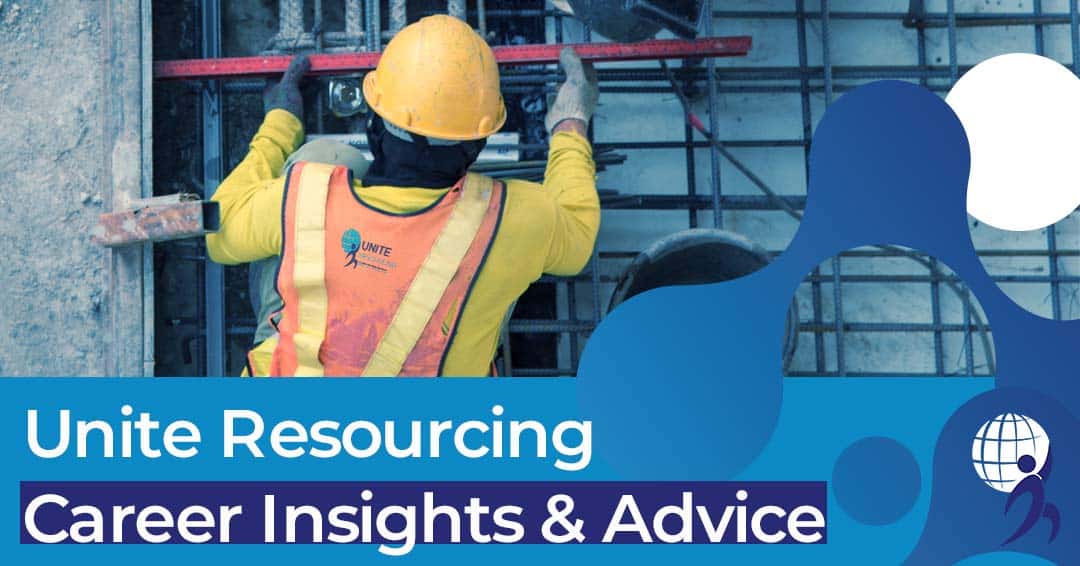 Testimonials

I was hired as an all round operator with Unite. My point of contact was Jake Alexander who was easy to work with, all questions were handled in a personable and professional manner. In my opinion he is a great asset to Unite Resourcing. I have since completed my probationary period, and am now on a company's books full time. The timesheet is done electronically and not once was there ever an issue of non-payment. Best recruitment agency I have been involved with hands down.

I have been with Unite Resourcing for a few years now and they are very easy to work with and have gone above & beyond to help find me work. I deal mainly with Jeanette and she has been awesome to work with, very professional and has gone out of her way for myself. I would definitely recommended anyone looking for work to get in contact with Unite Resourcing.

I'd like to say I found Jeanette Neha to be a very friendly and likeable Lady and the interview I had was the most comfortable and relaxed I have had. I also appreciated the way Jeanette would reply to my Text or Email enquiries.

I have dealt with Jeanette since I first arrived in Australia and she has always been extremely helpful in finding suitable employment for me. She has always been very friendly and helpful with any questions or concerns I may have. Unite Resourcing have been a pleasure to deal with.

I got in contact with Jeanette Neha about an upcoming construction job. She was able to get me organised quickly with only a few days before the start of the project. She is very reliable and professional and I appreciate her picking up the phone whenever I call. She's the best and I had a great experience!

Jeanette got me the job with Jack Hills as Camp Manager Chef. This position was late in starting but Jeanette kept in contact at all times so I knew what was going on. I have met Jeanette at the office and always found her to be helpful and happy, she was a pleasure to work with. She has a great sense of humour and came across as being there for me if I had any questions or problems. You don't find many recruiting staff who not only love their job but take pleasure in helping.

I saw an ad on seek advertising a civil labourer job. I rang the contact number provided for Ms. Jeanette Neha and she was very helpful from the beginning. She was very friendly and professional. She was also very comprehensive regarding information about the job and inductions which made the entire recruitment process very straight forward. I was very pleased with the service provided and it has been a pleasure working with Jeanette and Unite Resourcing.